About the Campaign
Undocumented Californians lack access to affordable health care coverage
Undocumented Californians contribute billions of dollars to California's economy, yet more than a million lack access to affordable health care coverage. Health care is a human right and providing health coverage to everyone – regardless of immigration status – is the right thing to do. Join us in fighting for #Health4All because a health care system that excludes anyone, hurts everyone.
It is estimated that there are 300,000 undocumented individuals living in San Bernardino and Riverside Counties. With those living in San Bernardino County with only having access to restricted Medi-Cal (Emergency Medical).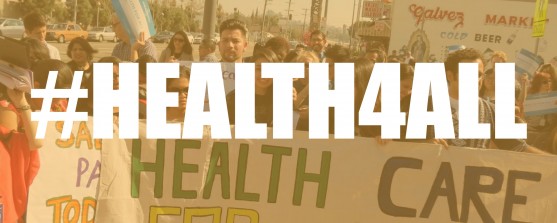 What is currently happening?
This year two bills were introduced. SB Healthcare for undocumented seniors authored by Senator Durazo and and AB4: Healht4All authored by Assemblymember Dr. Joaqun Arambula, both vehicles have been used in prior years to urge our state to remove immigration eligibility as a requirement for healthcare access. Thanks to organizing and advocacy our state legislators are committing to expanding health care to more people. We hope this is the year we cover ALL people to ensure we have a healthy community.
Get Involved
How to take action
Call Assmeblymember James Ramos and tell him why it is important to pass AB 4 and SB 56 this year. (more details to come)
Join us to ensure that everyone has access to health care, regardless of their immigration status. Do you know an elder ages 65 or older, we want to learn their story: Health4All Story form forma de historia Salud Para Tod@s 
Do you know an undocumented immigrant elder who is struggling to get an appointment to get the vaccine? Let us know call 909-996-2040