About the Campaign
The Shut Down Adelanto Coalition (SDA) is a collective of over 20 organizations dedicated to the just closure of the Adelanto Detention Center.
The dehumanizing, carceral based economy of Adelanto is a prime and perverse example of the profit-motivated detention system. ICE (Immigration and Customs Enforcement) and the private prison company, GEO Group, contracted with the City of Adelanto in 2011. In 2019, GEO Group expanded their bed space from 975 to 2,690, making it the largest detention facility in the country. However, due to the advocacy work of SDA, the vast majority of the facility remains empty and we will not stop until we free them all and the facility is permanently closed.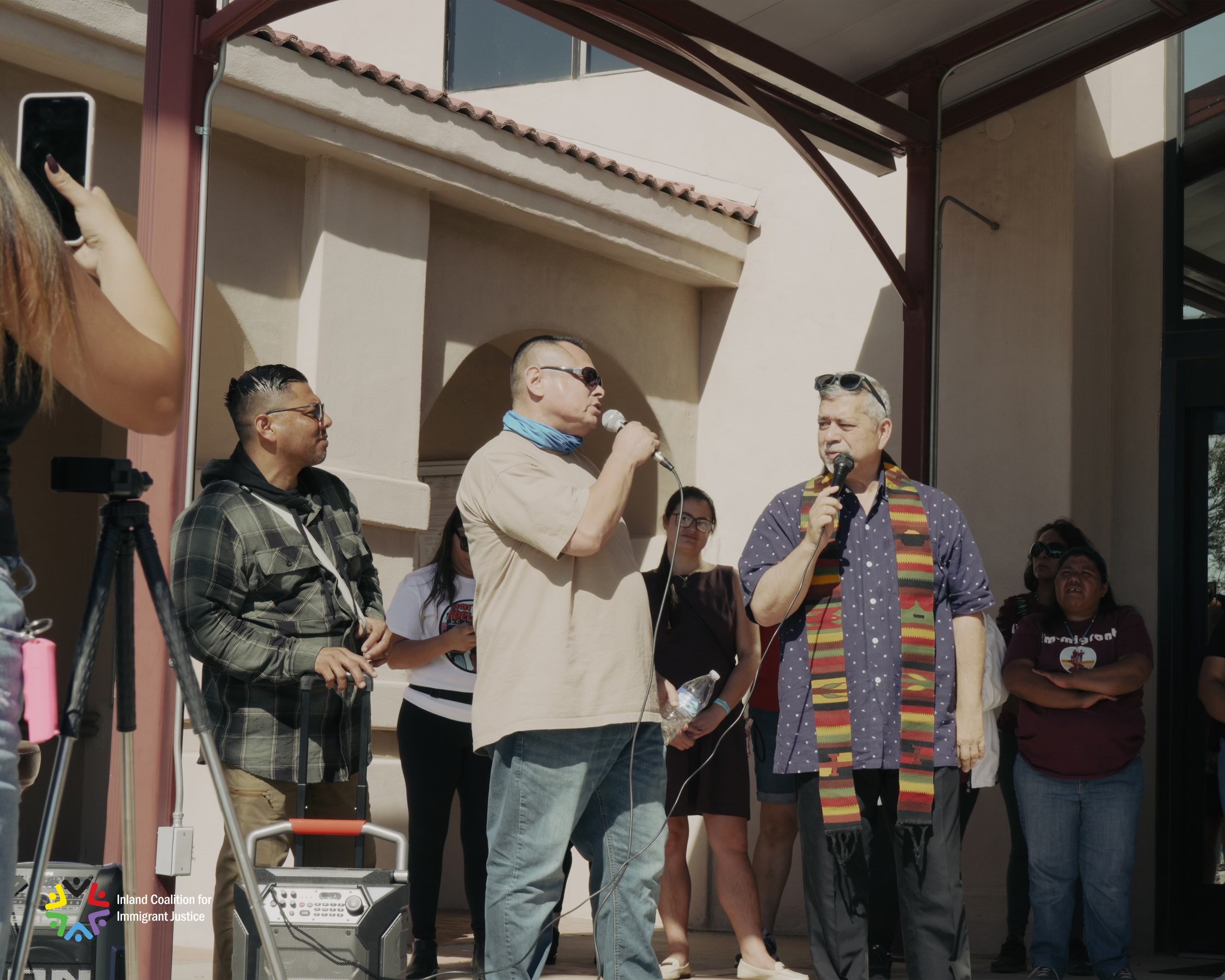 #NoToxicCages
California ("CA") has taken steps to address the proliferation of private jails with bills such as SB 29 and AB32 being signed into law, however the GEO group continues opposing CA values by circumventing these laws at every corner. Nevertheless, advocates and the community have fought back harder. In 2020, The Shut Down Adelanto Coalition began to expose a long list of environmental hazards that have long existed in the facility, such as the misuse of a cleaning chemical (pesticide) called HDQ Neutral, contaminated water, and horrible air quality coming from other toxic sites in close proximity to the detention center. Our advocacy led to congressional members like Rep. Norma Torres and Rep Judy Chu to speak out in favor of the closure of the facility. Members such as Rep. Mark Takano, led a letter demanding that ICE address the reports from immigrants who were affected by the chemical.
These environmental hazards are not only harmful to immigrants detained but to the overall community of Adelanto. The residents of Adelanto, who are the majority black and brown, have been deliberately targeted by corporations who abuse the lenient land use and environmental policies in the city. False promises of prosperity in exchange for hazardous institutions have resulted instead in a shortage of jobs, persistent low median income, and an unhealthy prioritization of jails over schools. Meanwhile, GEO group rakes in billions of dollars in revenue from federal contracts secured by Adelanto city permits. Residents of Adelanto however are taking matters into their own hands by demanding transparency, clean water, more parks, and better decision making in the city that prioritizes the health of all residents. It is time our elected leaders unite to implement a Just Transition plan that puts people over profit.
We are demanding #NoToxicCages in our communities! Our goal is to collect 2,690 signatures - one per bed at the detention center. Sign this petition to take a step towards a brighter, healthier, and sustainable future and help shut down the Adelanto Detention Center once and for all.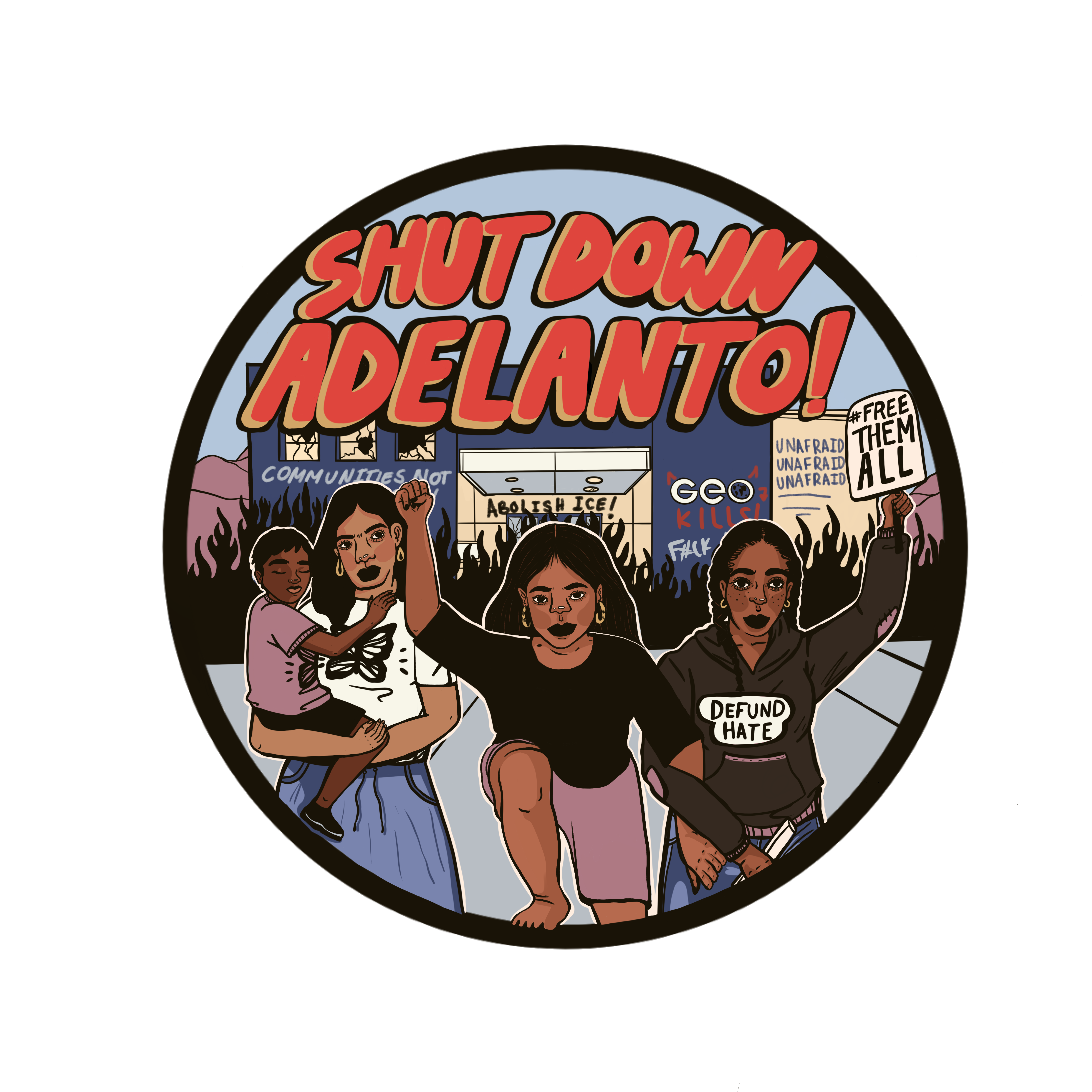 #freethemall
People inside of the Adelanto ICE Processing Center, run by GEO group, have been protesting their incarceration and demanding to be released through hunger strikes, work stoppages, and sit-ins.
Their demands are that 1) ICE release everyone starting with those most vulnerable to COVID-19. 2) While incarceration takes place ICE and GEO must provide safe housing, protective gear, and medical attention. 
Instead of mitigating the spread, ICE and GEO are continuing to put people's lives at risk by using harmful practices. In May, Freedom for Immigrants and Inland Coalition for Immigrant Justice submitted a complaint to the DHS Office of Civil Rights and Civil Liberties, after receiving reports from people detained in Adelanto that harmful and irresponsible use of a chemical called HDQ was causing major physical harm. Reports have been similar in Florida, Colorado, and Washington.
On June 19th, 2020 the Desert Sun reported that ICE transferred 3 people who tested positive from coronavirus from a Blythe Prison, which has had the worst COVID-19 outbreak in CA, to the Adelanto ICE Processing Center. 
Thousands of doctors and advocates have also been urgently sounding the alarm to release people from detention since early March, knowing that the detention system is notorious for its fatally flawed medical care and abysmal conditions that only worsen in times of crisis. We cannot let more time pass by, Immigration and Customs Enforcement (ICE) can and should release all people from detention immediately.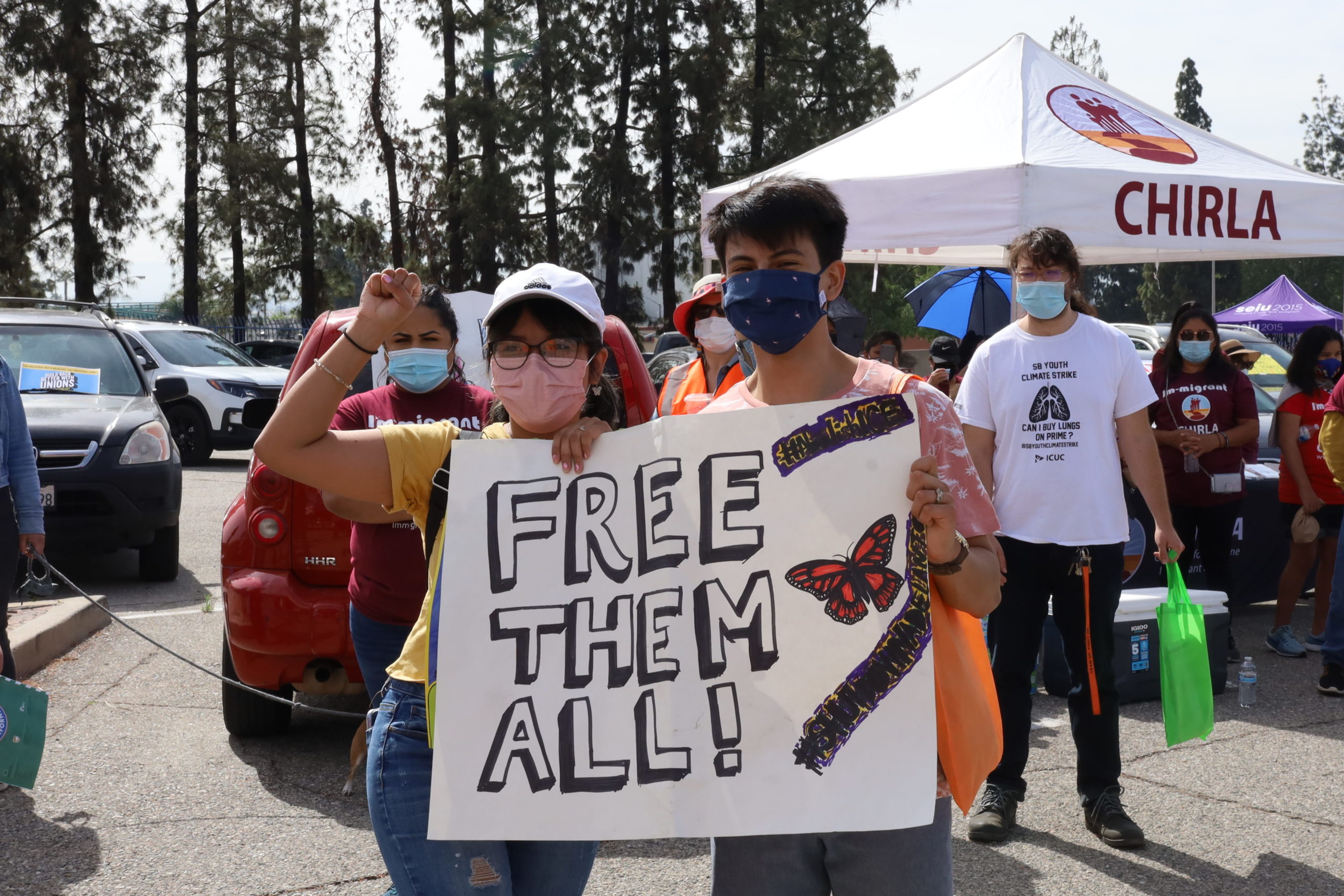 Communities Not Cages
This campaign amplifies local communities, coming together to build a coordinated strategy to stop the expansion and fight the closure of detention centers. This campaign builds on the collective vision of placing people over profits and defending respect and dignity for all. In 2019, CA recognized that predatory private prison companies had a track record of treating people like commodities and must be driven out of this state. AB 32 (people not profits) was passed thanks to community led advocacy but since then ICE has been working to circumvent and even expand its facilities!
Adelanto officials have lacked transparency and have even prioritized relationships and shady deals with private prison corporations like the GEO Group. This long-standing relationship has failed to bring the Adelanto community out of poverty and instead has become a drain. Now advocates are working together to support localities demanding investments in their communities not in cages!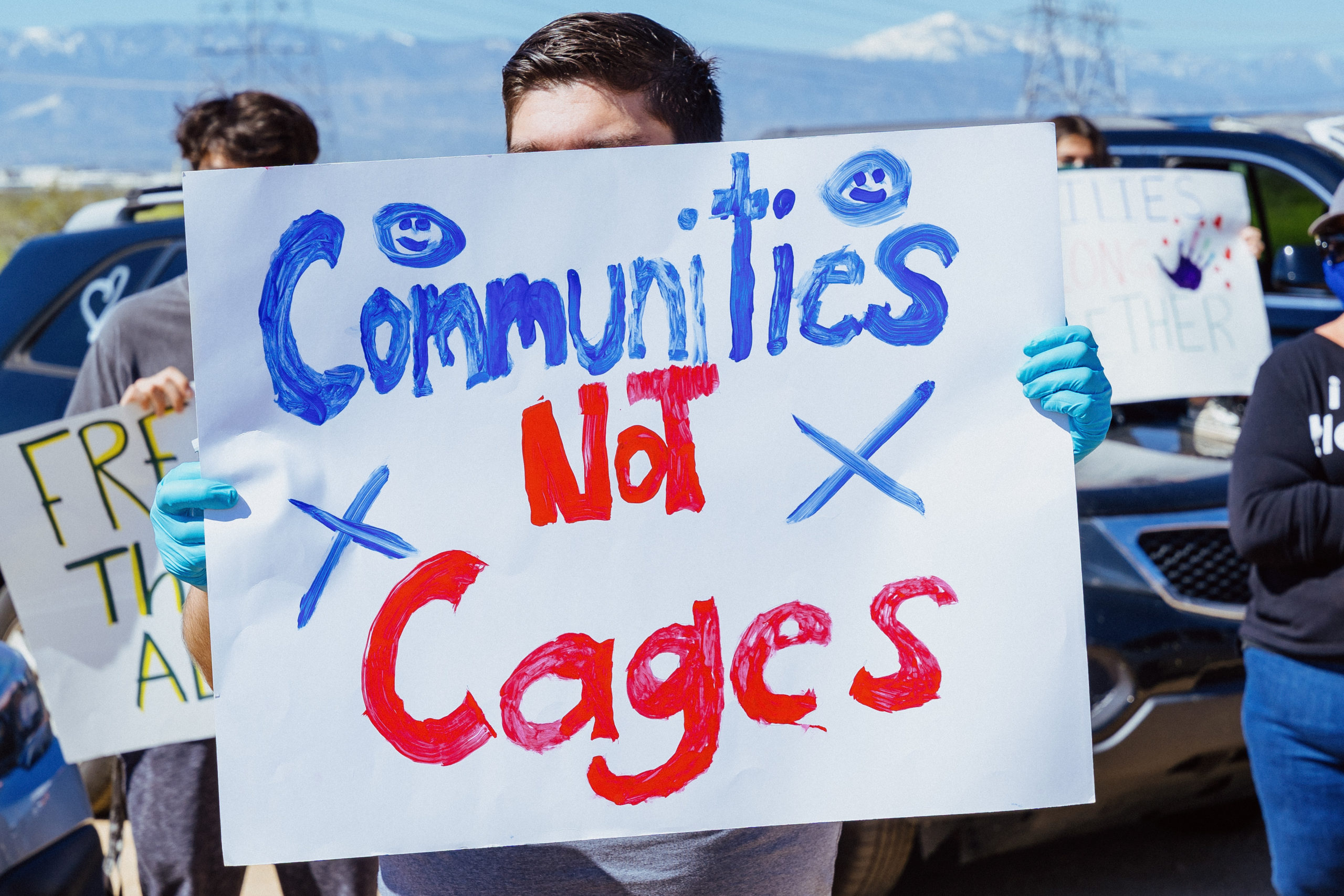 Adelanto Toxic Tour
May 27th, 2021 marked 10 years since the GEO group entered a contract with the city of Adelanto to incarcerate immigrants on behalf of ICE. GEO's for-profit facilities are a threat to the lives of immigrants and the local community in Adelanto. Immigrants detained in Adelanto have been subject to abuse and mistreatment. Last year, GEO Group used a pesticide called HDQ in their failed attempt to mitigate the spread of COVID-19. This resulted in people detained to have health impacts such as headaches, dizziness, and fatigue but also respiratory illnesses, bloody noses, gastrointestinal tract problems, and worsening mental health. This was on top of already horrific conditions including lack of medical care, and food and water contamination. This further proves why we need city officials to prioritize wellbeing with their community, not their relationship with the GEO group!
The Adelanto Toxic Tour video series by CCAEJ and IC4IJ address the environmental racism the community of Adelanto is currently facing. With a majority population of Latinxs and Blacks, the city of Adelanto is home to a Superfund site, logistical centers, and carceral facilities that have resulted in poor air quality, water contamination, and serious public health issues.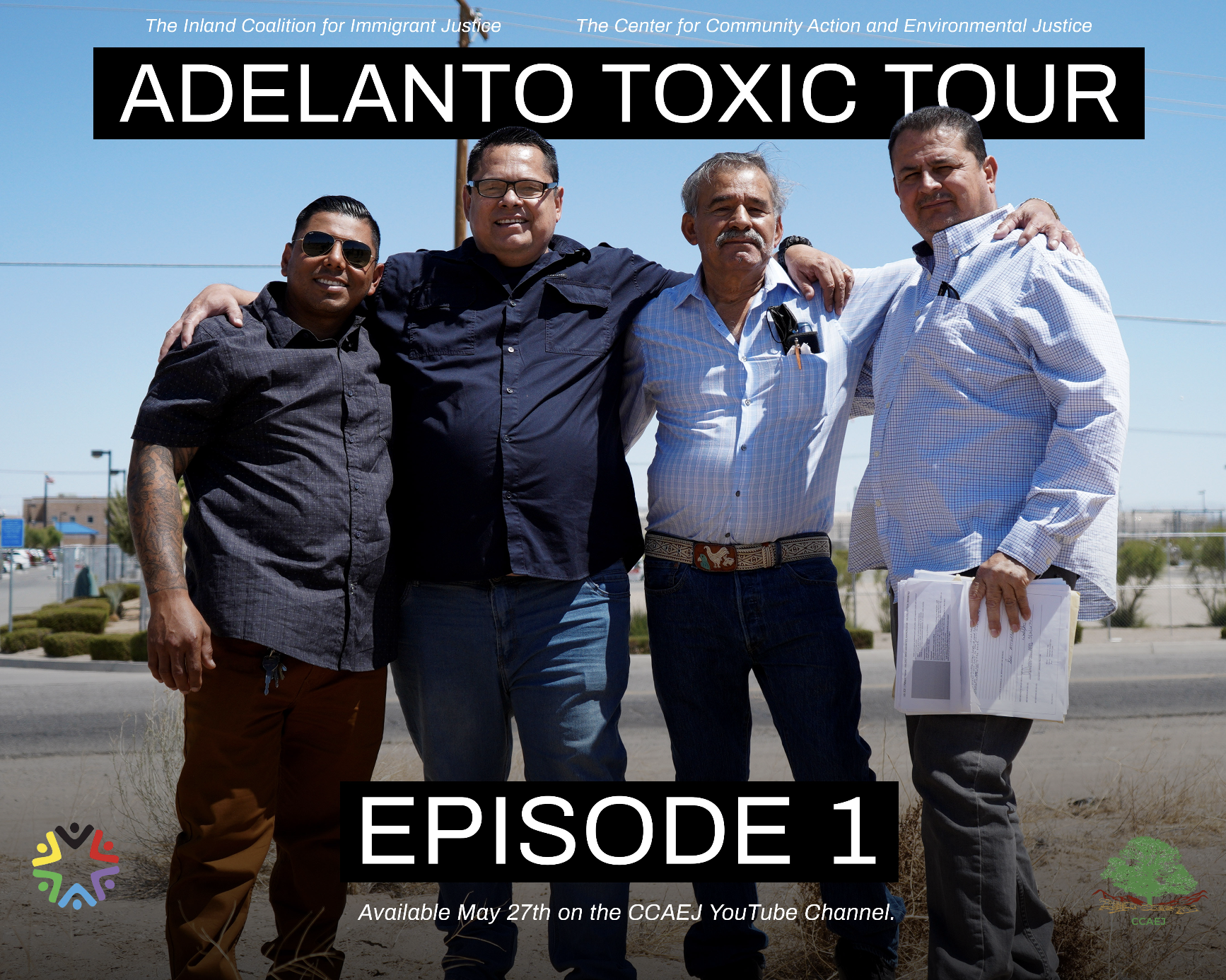 #DivestGEO
We are now preparing to launch the [#DelistGEO & #DivestGEO] campaign which will focus on exposing the horrors that have occurred at the hands of GEO and aims to plumett the stock value for its stock holdings. Since 2017 the stock market value for GEO corporation has steadily plummeted, millions of dollars in value, and investor funds have been lost due and will likely never be regained.
Deaths at the hands of GEO, medical neglect to its detainees, shady political maneuvering, and accusations of corruption at a local level have led to negative press, disinvestment, and cashing out by investors trying to protect their assets (or cut their losses).
In 1994 they became a publicly traded company, opening at $1. In June of 2017, they hit their highest value at $33.30. However, the GEO Group stock started a downward trend where their value is now at $6.
We refuse to stand idly by while GEO profits in the millions of dollars and immigrants held are suffering. This campaign will not end until GEO is fully delisted from the stock exchange and will escalate to call for an end to private prisons and private detention facilities in the United States and set a precedent worldwide that the time for profiteering from private prisons must come to an end.