Street Vendors Have Come to Improve Our Communities; Here is Why We Should Embrace Them
By David Friedman, Realicore & Viva La Boba
As a White, Jewish individual, I am understandably the last person who should be commenting on the inequality that exists between street vendors and storefront restaurants. However, I strongly feel the need to be an ally to my immigrant siblings who are not only trying to make a living, but bringing happiness and culture to the community with every mouthwatering tamal or container of flavorful hummus that they serve. In other words, we want to lend a helping hand instead of pulling up the ladder. My intention with this article is not to pit street vendors and restaurants against each other, but rather to shed light on the struggles that street vendors face in an effort to foster mutual understanding. Additionally, I aim to explore how street vendors contribute to the community's well-being and advocate for new avenues of commerce within the Inland Empire.
I co-own Viva La Boba, a small, community-oriented boba shop in downtown San Bernardino, alongside my girlfriend and business partner, Tansu Philip. Opening our café in a nearly vacant downtown area presented numerous challenges, but our success would have been impossible without the support of neighbors who shared our commitment in revitalizing San Bernardino. It's important to note that Viva La Boba is not my first entrepreneurial venture – In 2011, I established Realicore Real Estate Group with my father, aiming to bring life and community back to downtown San Bernardino. Opening a community-oriented boba shop was just one piece of the puzzle—we needed to attract people to downtown San Bernardino.
To bring life back to Downtown San Bernardino, we started organizing grassroot events to try and entice people to visit the area. A few heavy metal shows and open mic nights turned into full blown events. We can all attest to the fact that no outdoor event is a true event without street vendors serving up delicious food. IE Vegan Sundays was and continues to be one of the most popular street vending food events in Downtown. Many of our baristas at Viva La Boba have creative side-businesses including food street vending. We encourage them to follow their passion and as a result, many of our baristas have gone on to start their own food street vending business. Other areas outside of the Inland Empire have also embraced street vending.  626 Night Market, a popular street vending event that started in Arcadia recently expanded to six other cities including Las Vegas. Food and how we obtain it in California is changing and street vending is an inevitable part of the fabric of the Southern California food scene. The COVID pandemic sped up the growth of the street vending scene in the Inland Empire. Immigrant people who lost their jobs or had to move out of major cities due to COVID fell back on their vital cooking skills as a way to produce income for their families. While California overall had a net loss of 400,000 people from 2018 to 2022, the Inland Empire saw growth of 47,601 residents in 2021. That puts the Inland Empire in the top 5 metros across the country in regards to population growth. 
History shows that the presence of street vendors improves the safety of the nearby area. It essentially boils down to having more eyes on the street which deters would-be criminals. From a personal perspective, downtown San Bernardino always feels safer when there are street vendors or pop up events happening. Whether you operate a store-front or are a street vendor, a good business person doesn't want their customers getting hurt and an actual person is more effective than the neighborhood watch signs that are meant to "scare" off criminals. Oftentimes street vendors put themselves in harm's way to do so. In addition to improved safety, the courteous street vendors typically cleaned up after themselves if they wanted to be welcomed back by the neighbors or nearby businesses the next day. Several of the more successful street vendors will go on to open a brick and mortar location. For example, Dave's Hot Chicken grew from their humble street vending location in East Hollywood to over 100 locations in four small years thanks to investors such as the heir to Carl's Jr. and the popular singer, Drake. The Inland Empire has a strong history tied to food franchises such as McDonalds, Taco Bell, Del Taco, and even Bakers, which makes street vending even more ingrained in the Inland Empire's culture.
These street vendors, typically immigrants, have chosen to work a back-breaking job to make a living. Food preparation is usually completed a day in advance in the vendor's own kitchen or at a commercial kitchen (If you can find one). The street vendors that pop up at night are typically street vendors who do this as a second job to augment income from their regular job. To balance both jobs they are sometimes awake until 3 am or 4 am preparing hot and fresh food for the next day. Unlike what many perceive them to be, they are not criminals. Aside from the delicious food they provide for the community, their motivation to provide for their families despite challenges such as language barriers or citizenship should be celebrated.  Their entrepreneurial spirit to pursue a legal business is an asset to our city.
Government plays a crucial role in supporting the success of businesses, even through the facilitation of an environment that allows them to thrive without burdensome and excessive regulations. Unfortunately, we have witnessed numerous instances where street vendors have had their equipment, their means of livelihood, seized by authorities. Moreover, street vendors have faced harassment and even violence from individuals within certain communities, often motivated by racial bias and supported by the criminalization of street vending. It's important to note that these street vendors have no intention of causing harm to the community. To promote the growth and prosperity of these businesses, it is imperative to establish a permit application process that is accessible and easy to comprehend, with multilingual resources readily available on the city or county website. The process should be fair and affordable, akin to the pricing and requirements imposed on food trucks or food trailers that serve the public. By implementing these measures, these businesses can flourish and contribute tax revenue to the city.
We, the co-owners of Viva La Boba, are committed to aligning our actions with our beliefs, which is why we are proud to announce that we have entered into a Restroom Agreement with a local street vendor, allowing them to operate within 200 feet of Viva La Boba in Downtown San Bernardino. By doing so, we wish to contribute to a safer environment, enhance the Inland Empire's food scene, and provide support to another small business, rather than engaging in exclusivity. We encourage you to embrace the spirit of neighborliness and come together to share a satisfying meal with good-hearted individuals.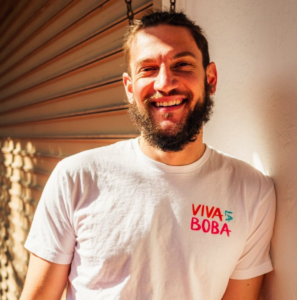 David Friedman, Viva La Boba Co-owner