Palm Springs Could Have Passed a Model Ordinance, Approved a Ban on Sidewalk Vendors in Downtown Instead
(as of 9/14/2023)
On Thursday, September 14, 2023, the Inland Coalition for Immigrant Justice was present at the Palm Springs City Council Meeting to advocate for the rights of sidewalk vendors during the second hearing of Palm Springs Sidewalk Vendor Ordinance.
After months of continuous advocacy, outreach, and collaborative efforts with city officials, ICIJ and Public Counsel were able to make some changes to an initial draft of the ordinance. Although the first versions of the ordinance were much more punitive and out of line with state law, the ordinance is still missing components that would strengthen  protections and equity for vendors. We need our electeds to stand with vendors and remember they too are small businesses who cannot be excluded for the economic protection of other small businesses. We plan to work to make the ordinance much more equitable and one that fully includes the perspectives of sidewalk vendors and those who advocate for them
The biggest changes to the initial ordinance that were a part of the final draft include:
The fine structure for violations was significantly reduced from

$100, $200, $500 to $50, $100, $250

for those with a permit and

$250 to $125

for first-time offense without a permit

This reduction is an important step in alleviating financial burden on a population that is already struggling financially and earn a low income

A reduction from 96" to 48" of sidewalk clearance

Following a survey of downtown Palm Springs, ICIJ was able to show the Palm Springs City Council with photos and imagery that the sidewalks were large enough to reduce the proposed sidewalk clearance requirement

ICIJ pushed for a reduction all the way to 36" which would have been within ADA requirements and would have allowed ample space for vendors to operate

A reduction in the space between vendors and a certified farmers' market, Swap Meet, or Temporary Event was reduced from 500' to 200'

Vendors can now benefit from being closer to large events that attract greater foot-traffic and potential customers while still maintaining a respectable distance from said events

The decrease in price of Land Use Permits (LUP) from $1,642 to an accessible $438

After advocacy efforts to determine the financial inequity vendors face in their industry the Deputy City Manager Flinn Fagg suggested a reduction to ensure access at an equitable price point.

The city will adopt an education-first approach that will be implemented once the ordinance goes into effect through the usage of brochures with accessible language(s), code enforcement will focus on administrative citations, and workshops to educate vendors on the ordinance

Our collaborative efforts with Palm Springs city officials was vital to educating the city on the reality and lived-experiences of sidewalk vendors. Such efforts transformed the ordinance from one that sought to punish vendors first into an ordinance that saw the value in educating vendors of the process of integrating into the formal economy.
However, the ordinance that the city council voted to pass was still in need of significant changes and revisions. Specifically:
The city council voted to keep the seasonal prohibition of street vending in the downtown areas of Palm Canyon Drive and Arenas Road from Friday through Sunday between the hours of 4:00 p.m. to 11:00 p.m. during the months of October 1st to April 30th.

This prohibition negatively impacts the earning potential of the sidewalk vendors of Palm Springs who recognize the area as an economic hub of the City Palm Springs and an area where they can increase their sales.

ICIJ and Public Counsel pointed out to the city council that there was not sufficient evidence to suggest that sidewalk vendors posed a danger to public health and safety, which are the only reasons that allow for a restriction of an area to sidewalk vending under California state law

ICIJ and Public Counsel warned the city council that without sufficient evidence, this prohibition could be interpreted as economic protectionism of traditional brick and mortar businesses in the area and a potential no-vending zone,  which could lead to a lawsuit.

The city council voted to keep the sidewalk clearance at 48" instead of ICIJ's recommendation of 36".

36" is still within ADA compliance and gives more space for sidewalk vendors to operate

The city council chose not to include ICIJ's recommendation of granting senior sidewalk vendors over the age of 55, free business licenses.

ICIJ recognizes that a significant portion of sidewalk vendors are elderly and that the financial burden of paying for a business license is not realistically within reach for vendors who are barely able to make ends meet. Free business licenses would go a long way to formalizing sidewalk vendors without significantly burdening the city.
While the Inland Coalition for Immigrant Justice is not completely satisfied with the current sidewalk vending ordinance, we are optimistic that the City of Palm Springs and its City Council will be open to further recommendations and collaborative efforts towards building an equitable model ordinance for the rest of the state. ICIJ will continue to organize and educate sidewalk vendors in not only Palm Springs, but throughout the entire Coachella Valley. We invite all community members and sidewalk vendors to join us in advocating for the rights and fair treatment. We thank you all for the support!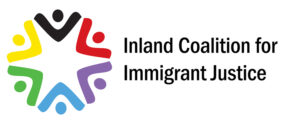 Lyzzeth Mendoza, Economic Justice Organizing Director
Bryan Sanchez, Lead Organizer
Alejandro Meza Aguilar, Coachella Valley Organizer